STANDARD PINE NEEDLE

Throughout the South, pine needles are used as ground cover. When pine needles decompose in the garden, they provide virtually no nutrients to the soil; but they provide shade, insulate root systems, retain moisture as well as being very attractive. Because pine needles decompose quickly, they lose their color and volume within a few months. In most cases, typical maintenance calls for adding straw every three to six months [topdressing] to maintain volume and color. Within a few months, the base straw becomes matted and spongy. Rather than transmit rainfall to the soil and plant roots, this layer of material absorbs and traps moisture.
BUGS
Insects, especially ants, cockroaches and termites, are attracted to dark and moist environments. Most natural garden mulches are laid down in beds around the foundations of homes. Homeowners work hard to keep insects out and unwittingly create an attractive environment for them right at the entrance of their homes. Since pine straw is harvested and baled right of the forest floor, everything on the forest floor is in the package:
weed and grass seed

sticks, cones, leaves and twigs

spiders, mites and other critters

mold spores and mildew
COLOR
Pine Needles that fall in the Spring months are reddish brown and Fall month needles are a lighter yellowish brown. Across the country, good, fresh pine straw is in short supply. Whether it is immediately harvested and baled or awaiting to be harvested, pine needle begins to decompose immediately, losing its color over a period of 6 months, first turning a dull brown and then a bleached gray.
BED PREPARATION
In preparing beds and border areas for Pine Needles, landscapers typically remove all material down to the soil base, then treat the soil with "Pre-Emerge" or another herbicide to prevent weed and grass seeds from germinating. This is a costly, labor-intensive procedure. Why spread bales of needles, which contain untreated weed and grass seeds, mold and mildew, and all the critters the landscaper worked to clear out?
FLUFFING
As debris fall into beds, normally pine needle is "fluffed", or turned. The leaves are turned under, where they decompose into the soil. It's difficult to fluff old, matted pine needle, because it crumbles.
The Textraw Advantage
<![if !vml]>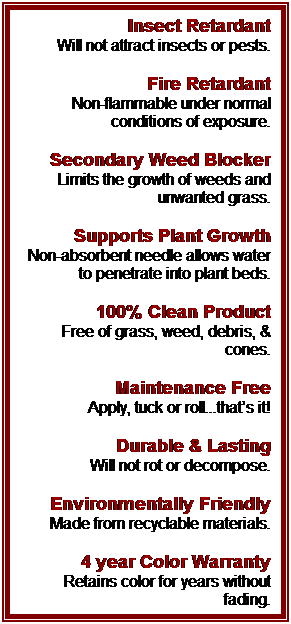 <![endif]>